Tippy and the Night Parade: Toon Level 1 (Hardcover)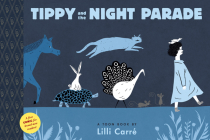 $12.95
Not in stock. Available To Order.
Description
---
When Tippy wakes up, there's a peacock in her bedroom, a bird in her hair, and mice dancing on the headboard. . . . Yet all Tippy remembers is falling asleep. Award-winning cartoonist Lilli Carre takes readers on a nocturnal adventure up a mountain, down a hole, and back home for endless bedtime enjoyment.
About the Author
---
Lilli Carre grew up in California and now lives in Chicago, Illinois, where she works as an artist, a filmmaker, and an illustrator. Tippy and the Night Parade is her first book for children. As a kid, Lilli always dreamed of having wild animals follow her, but it usually ended up the other way around. Now she likes to take long, wandering walks around the city. No one has ever told her that she sleepwalks, but she often wakes up to find herself in a very messy room, occasionally with a cat on her head.
Praise For…
---
In her first book for young children, cartoonist Carré repeats key phrases in the text to help beginning readers... Tippy's calm, sleepy suppositions clash deliciously with the gradually increasing disorder found in the accompanying panels. Young readers will delight in all the crazy details: the mice dancing on the headboard of Tippy's bed; the mole's hilarious devotion to the bear; the goat chewing Tippy's hair as the story ends. Carré skillfully employs a limited color palette, with warm oranges underscoring the messy mayhem of Tippy's room and cool midnight blues and slate grays providing a serene backdrop for Tippy's late-night ramblings.
—The Horn Book

This quirky comic for early readers offers simple panels with easy-to-find details and monochromatic color schemes–orange for the day and shades of blue for the night. ... Consistent with the Toon Book line, tips for reading comics with children appear in the back matter. Carré's retro and dreamy illustrations readily lend themselves to visual literacy practices: kids can "ham it up" with sound effects (bumps, scrapes, and animal sounds), and parents and educators can let children guess about the context of the pictures.
—School Library Journal