The Myths of Happiness: What Should Make You Happy, but Doesn't, What Shouldn't Make You Happy, but Does (Paperback)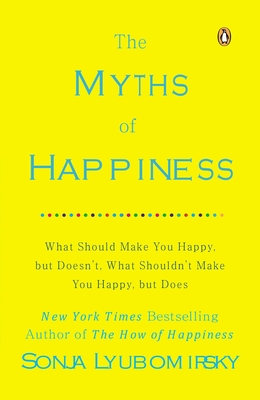 Email or call for price.
Special Order - Subject to Availability
Description
---
The bestselling author of The How of Happiness reveals how to find opportunity in life's thorniest moments
 
Focusing on life's biggest, messiest moments, Sonja Lyubomirsky provides readers with the clear-eyed vision they need to build the healthiest, most satisfying life. Lyubomirsky argues that we have been given false promises—myths that assure us that lifelong happiness will be attained once we hit the culturally confirmed markers of adult success. This black-and-white vision of happiness works to discourage us from recognizing the upside of any negative and limits our potential for personal growth. A corrective course on happiness and a call to regard life's twists and turns with a more open mind, The Myths of Happiness shares practical lessons that prove we are more adaptable than we think we are. It empowers readers to look beyond their first response, sharing scientific evidence that often it is our mindset—not our circumstances—that matters most.
About the Author
---
Sonja Lyubomirsky is a professor of psychology at the University of California, Riverside, and the author of The How of Happiness and, most recently, The Myths of Happiness. She lives in Santa Monica, California.
Praise For…
---
"In this thought-provoking volume, Lyubomirsky... examines happiness and conventional notions about how it's nurtured in relationships, at work, and in one's own psyche...Lyubomirsky demonstrates that positively reframing life events can mine the best out of even the darkest situations. Provocative and fresh."
—Publishers Weekly

"Informative and engaging….The author examines how the 'shoulds' of happiness not only undermine well-being, but also make it hard for individuals to cope with the sometimes difficult realities of adulthood."
—Kirkus Reviews

"No matter what your personal world is like, The Myths of Happiness will change the way you approach your daily life. Lyubomirsky's thorough research and practical solutions will not only add joy and contentment to your life, but will also allow you to take on issues that you may have been sweeping under the rug for too long."
—Woodbury Magazine

"In her new book, The Myths of Happiness, Dr. Lyubomirsky describes a slew of research-tested actions and words that can do wonders to keep love alive."
—Jane Brody, New York Times