Under the Feet of Jesus (Paperback)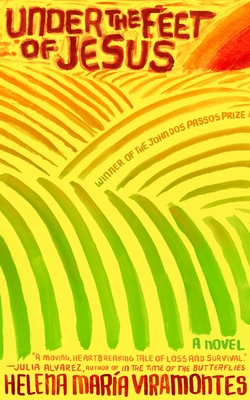 $16.00
Not in stock. Available To Order.
Description
---
A moving and powerful novel about the lives of the men, women, and children who endure a second-class existence and labor under dangerous conditions as migrant workers in California's fields.

"Viramontes depicts this world with sensuous physicality...working firmly in the social-realist vein of Steinbeck's The Grapes of Wrath and Upton Sinclair's The Jungle."—Publishers Weekly

At the center of this powerful tale is Estrella, a girl about to cross the perilous border to womanhood. What she knows of life comes from her mother, who has survived abandonment by her husband in a land that treats her as if she were invisible, even though she and her children pick the crops of the farms that feed its people. But within Estrella, seeds of growth and change are stirring. And in the arms of Alejo, they burst into a full, fierce flower as she tastes the joy and pain of first love. Pushed to the margins of society, she learns to fight back and is able to help the young farmworker she loves when his ambitions and very life are threatened in a harvest of death.
 
Infused with the beauty of the California landscape and shifting splendors of the passing seasons juxtaposed with the bleakness of poverty, this vividly imagined novel is worthy of the people it celebrates and whose story it tells so magnificently. The simple lyrical beauty of Viramontes' prose, her haunting use of image and metaphor, and the urgency of her themes all announce Under the Feet of Jesus as a landmark work of American fiction.

Winner of the John Dos Passos Prize for Literature
Selected as the Univesity of Oregon's 2019 Common Reading book
About the Author
---
Helena María Viramontes is the acclaimed author of The Moths and Other Stories, Under the Feet of Jesus, and Their Dogs Came with Them; and the coeditor of two collections: Chicana (W)Rites: On Word and Film and Chicana Creativity and Criticism. She is the recipient of the Luis Leal Award and the John Dos Passos Award for Literature, and her short stories and essays have been widely anthologized and adopted for classroom use and university study. Viramontes lives in Ithaca, New York, where she is a professor in the Department of English at Cornell University.
Praise For…
---
Praise for Under the Feet of Jesus
 
"Brilliantly executed...intense...exhibits a command of the potential magic inherent in the written word that most writers can only aspire to...a remarkable voice."—Sunday Oregonian
 
"Captivating...vivid."—Orlando Sentinel
 
"Lyrical...a compelling debut...Viramontes displays gifts of understanding and storytelling unusual for a first novel."—Kirkus Reviews
 
"A beautiful story...Her writing is tactile and sonorous, but there is something more...I wanted to meet Viramontes' characters, squat down, and eat with them."—Alfredo Vea, Jr., author of La Maravilla
 
"Tempers a restrained fury at social injustice with lovely lyrical grace...Viramontes has a keen eye for finding beauty."—Elle
 
"Gives a fierce poetic voice to the lives of Piscadores in the California vineyards and orchards...Viramontes writes with an irresistible authority that compels our recognition and wonder."—Judith Grossman, author of Her Own Terms
 
"A literary feat and a powerful political statement."—Seattle Times & Post-Intelligencer
 
"A lyrical tale… Viramontes' images linger, and the book will linger for a while, too."—Washington Post Book World

"A moving, heartbreaking tale of loss and survival."—Julia Alvarez, author of How The García Girls Lost Their Accents and In the Time of the Butterflies

"Stunning...blends lyricism, harsh realism and concern for social justice."—Newsweek

"The best literary fiction makes its villains out of situations rather than people, and finds its heroes not in noble victors but in the spirit of ordinary men and women. In this lyrical tale of a fruit-picking family in some nameless weedy place, there is no sadistic overseer, unless it is the pitiless sun, which sucks sweat and hope from laboring bodies. Viramontes's novel comes the closest of any yet to universalizing this appalling life."—Joanne Omang, The Washington Post

"An exciting read...Throughout this rich novel, Viramontes brings us into her world and we fall under her spell."—Los Angeles Times Book Review
 
"A remarkable tale...a wealth of robust colors and magic...Readers will take to the lushness of Under the Feet of Jesus like a thirsty traveler to a well."—Thomas Keneally, author of Schindler's List