You Will Hear Thunder (Paperback)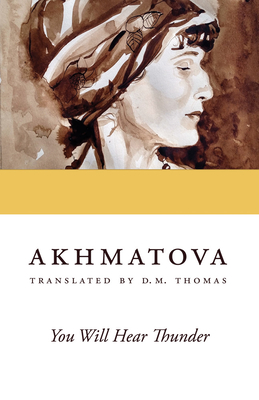 Description
---
Anna Akhmatova lived through pre-revolution Russia, Bolshevism, and Stalinism. Throughout it all, she maintained an elegant, muscular style that could grab a reader by the throat at a moment's notice. Defined by tragedy and beauty in equal measure, her poems take on romantic frustration and the pull of the sensory, and find power in the mundane. Above all, she believed that a Russian poet could only produce poetry in Russia.
You Will Hear Thunder spans Akhmatova's very early career into the early 1960s. These poems were written through her bohemian prerevolution days, her many marriages, the terror and privation of life under Stalin, and her later years, during which she saw her work once again recognized by the Soviet state. Intricately observed and unwavering in their emotional immediacy, these strikingly modern poems represent one of the twentieth century's most powerful voices.
About the Author
---
Anna Akhmatova (1889–1966) is an iconic figure of twentieth-century Russian literature and one of her era's great poets. Her work has been translated into many languages.
Praise For…
---
"D.M. Thomas is a poet in his own right, and … a sensitive translator of [Akhmatova]. Thomas refers to the 'rich mysterious fluid life' that her poetry has.… From his strong yet cautious rhythms, his solid musical phrasing, one [can] intuit the dark elegance of the original."—Yorkshire Post
"These are among the best, the most authoritative, of … translations from the Russian, and are from one of the most powerful of the twentieth century Russian poets."—Financial Times
"Akhmatova's example reminds us that while it is true that the writer cannot change the world alone, the world cannot change itself without her."
—San Francisco Jung Institute Library Journal
"Anna Akmatova is one of the best–known Soviet poets."
—Feminist Bookstore News