Palm Frond with Its Throat Cut (Camino del Sol ) (Paperback)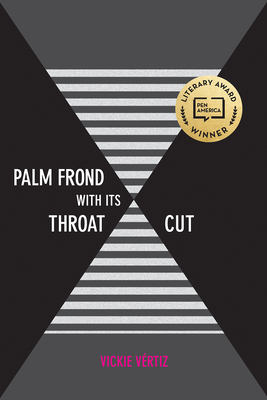 $16.95
Not in stock. Available To Order.
Description
---
Palm Frond with Its Throat Cut uses both humor and sincerity to capture moments in time with a sense of compassion for the hard choices we must make to survive. Vértiz's poetry shows how history, oppression, and resistance don't just refer to big events or movements; they play out in our everyday lives, in the intimate spaces of family, sex, and neighborhood. Vértiz's poems ask us to see Los Angeles—and all cities like it—as they have always been: an America of code-switching and reinvention, of lyric and fight.
About the Author
---
Vickie Vértiz earned her MFA from the University of California, Riverside. A Macondo and VONA fellow, she is a Los Angeles–based poet, writer, and social justice advocate who teaches creative writing to adults and young people across the country.
Praise For…
---
"A chamber opera that Vértiz vivifies with jangle and sparkle."—Library Journal

"Palm Frond With Its Throat Cut is an offering; to a people, to a city—but it is also an irreverent reclaiming of land and home for those who have always been here."—Bitch Magazine

"Vértiz pays tribute to the fighters and the lovers inside each of us in this fearless and remarkable collection of poems that sings 'about the dark times, about school. About how La Llorona needs a vacation from that riverbed.'"—NBC News

"In Vértiz's poems, Latinxs living in California share "untranslatable" experiences that take place between English and Spanish. Her poems transform displacement and a polluted cityscape into sources of resistance and aesthetic restructuring. The visually and sonically rich setting of these poems may be polluted — by toxic air, water, and soil; toxic masculinity and white supremacy — but Vértiz celebrates what her community grows in this toxic ground and voices their untranslatable experiences."—Los Angeles Review of Books
"I want to dance in Vickie's SoCal androgynities—her pixelated, hybrid Latinx Los Angeles cosmos, with its 'factory imaginations,' its 'Mexican or not,' its many lives rushing by and the 'death stench' and the tiny rivers of tears into the tacos. A furious pace, a 1,000-degree eye, here Vértiz pours out her deep reflections, her erotic 'garage' novelette, her low- and high-rider journey into the various infernos and paradisos. A collage of breathlessness, a nirvana incandescent set of urban and personal illuminations. A groundbreaker, a Chicana world mural tumbling toward you fearlessly."—Juan Felipe Herrera, Poet Laureate of the United States
 
"Vértiz is a powerhouse. Her work is incredibly nuanced with a full sensibility of place without sentimentality, without pity, and without need to justify its worth. These poems are smart, sassy, sonically enhanced, and scintillating. A must-read."—Allison Adelle Hedge Coke, author of Burn
 
"Indicating array and incision, Palm Frond with Its Throat Cut is where the ones who are first, and last, come first. Their verbs survive, enduring violent spacing, constantly displacing song in having vividly been made to come, in form, as questions emphatically unenclosed, in love in brokenness, in the language of all languages, as lit up as Los Angeles. On the way home, but always only on the way, Vickie Vértiz runs la vida down."—Fred Moten, author of The Service Porch