Canyon of Dreams: The Magic and the Music of Laurel Canyon (Hardcover)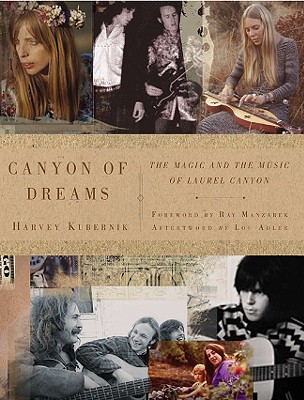 Email or call for price.
Special Order - Subject to Availability
Description
---
A lavishly illustrated insider's look at 80 years of music and culture in Laurel Canyon.Laurel Canyon is a zip code with its own play list: to name just a few, Sonny & Cher, The Doors, The Turtles, Canned Heat, Monkees, Byrds, Buffalo Springfield, Joni Mitchell, Jackson Browne; Crosby, Stills, Nash & Young; Eagles, and Carole King all cultivated their immortal sounds in this L.A.-based musical fraternity.Written by a long-time L.A. resident who knows them all, "Canyon"" of Dreams" traces the history of the community and its enduring legacy. Taking a deeply personal approach, it uses a multiple-voice narration based on exclusive interviews with the area's musical elite. Because of their close and long-time connection with Kubernik, some of these stars are speaking openly for the first time.Eye-opening both visually and informationally, this is a book no music lover can be without "Interview highlights include" - For the first time in years, the three surviving Doors talk about performances, recordings, band dynamics, and, of course, Jim Morrison- Randy Meisner reminisces about the Eagles first gig and the recording of One of These Nights - Graham Nash reflects on life with Joni Mitchell and describes writing Our House - Lou Adler discusses his legendary Sunset Strip venues the Whisky a Go-Go, Roxy Theater, Rainbow Bar & Grill, and Tapestry and, with Michele Phillips, reflects on the Monterey Pop Festival.- Slash, a child of the Canyon, details the formation of Guns N' Roses- And much, much more
About the Author
---
Harvey Kubernik, a lifelong resident of the Canyon area, is a veteran music journalist whose work has been published nationally in "Melody Maker," "The Los Angeles Free Press," " Crawdaddy," "Musician," " Goldmine," "MIX," "The Los Angeles Times," and "MOJO," among others. He has been a record producer since 1979 and was a former West Coast Director of A&R for MCA Records. As a West Hollywood and Laurel Canyon insider, he has unparalleled access to the sources, personalities, and even those who lurk in the shadows of the Canyon.
Praise For…
---
"He doesn't live amongst the rest of us who have to juggle normal lives and responsibilities with our passion for music and the printed word. Harvey's entire life IS his passion for music and the printed word. He is the consummate historian, the cosmic chronicler, a divine human train wreck of Lester Bangs and Carlos Castaneda. He is the yacking warrior of archetypal anecdotes who has authored many excellent tomes but without a doubt, 'Canyon of Dreams:  The Magic and Music of Laurel Canyon,' is his most formidable, dare I say, breathtaking literary work. You don't just read this book, you smell it, hear it and feel it. As a native of L.A. who grew up in the San Fernando Valley and made the trek to Hollywood through the canyon a thousand times, I now traverse that sacred asphalt with a quiet reverence.  And instead of turning the music up in the car, I throttle it down now with hopes I just might -- if i really try -- touch the  spirits of the artists who made the magic and the music.  Bravo, Harvey. Bravo."  --Lonn Friend, author, Life on Planet Rock