The Devil's Harvest: A Ruthless Killer, a Terrorized Community, and the Search for Justice in California's Central Valley (Compact Disc)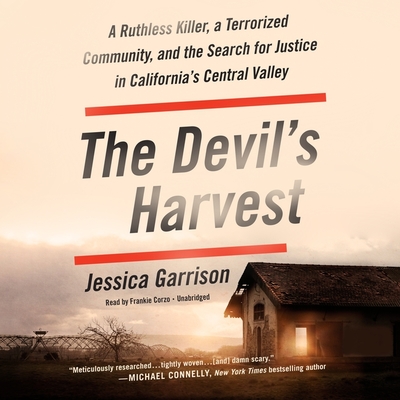 Email or call for price.
Special Order - Subject to Availability
Description
---
A gut-wrenching and timely deep-dive into the unbelievable true story of Jose Martinez, a drug cartel hitman responsible for dozens of murders across the forgotten farmlands of California's Central Valley, The Devil's Harvest sheds light on how the criminal justice system fails our country's most vulnerable immigrant communities
On the surface, 58-year-old Jose Martinez may look like your average neighbor, mechanic, and devoted father. However, unbeknownst to his many loved ones, Martinez worked as a drug cartel debt collector and hitman for over 35 years, terrorizing the poor, rural, immigrant communities of California's Central Valley and beyond. Having confessed to three dozen murders, he is one of the most prolific serial killers in American history--along the lines of Ted Bundy, John Wayne Gacy, and even H.H. Holmes. And yet until he voluntarily turned himself in, Martinez was virtually unstoppable. How did Martinez manage to evade law enforcement for so long with little more than a slap on the wrist? Because he understood a dark truth about the criminal justice system: if you kill the right people--people who are poor, who aren't white, and who don't have anyone to speak up for them--you can get away with it. Melding the pacing and suspense of a true crime thriller with the rigor of top-notch investigative journalism,
THE DEVIL'S HARVEST
follows award-winning reporter Jessica Garrison's relentless search for the truth as she traces the life of this merciless assassin, the cops who chased him, and the families of his many victims. Drawing upon decades of case files, interrogation transcripts, on the ground reporting, and Martinez's own handwritten journals,
THE DEVIL'S HARVEST
uses a gripping and often shocking narrative to dig into one of the most important moral questions haunting our politically divided nation today: why do some deaths--and some lives--matter more than others?