Headbangers (Hardcover)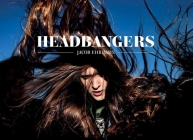 Email or call for price.
Special Order - Subject to Availability
Description
---
Headbangers is a collection of Danish photographer Jacob Ehrbahn's intimate portraits of the beauty and chaos of heavy metal rockers in the throes of musical ecstasy taken at European metal festivals such as Denmark's Copenhell, Germany's Wacken Open Air, and Sweden's Metaltown. Heavy metal fans go totally berserk when listening to their music. Some shake their heads violently from side to side and back and forth, while others go all in and flail their entire bodies in time to the blast beats. In this collection Ehrbahn's camera stops time and captures the surprising and life-affirming moments when the headbangers abandon all semblance of vanity and surrender to the rhythm. Ehrbahn transports us to an intimate world disconnected from time and space—a universe where it's possible to transcend the frenzy and enter an altered state that brings calm, joy, and relief.
About the Author
---
Jacob Ehrbahn is a Danish photojournalist who has been a staff photographer at the Danish daily national newspaper Politiken since 2003. Over the years, Ehrbahn has covered prominent news stories as well as the daily lives of people throughout the world. He has received numerous awards for his work, including being named second and third place Newspaper Photographer of the Year by POYi in 2003 and 2011. He's a two-time World Press Photo winner with second and third-place prizes in 2004 and 2013. In 2015 he was named Photographer of the Year in Denmark for the third time. From time to time, Ehrbahn delves into labors of love on the side, away from his full-time job. Headbangers is one of these projects.
Praise For…
---
"The rapid-fire photographic approach delivered some incredible results." —Slate.com

"Brilliant, energetic and skillyfully shot images of headbangers mid-bang." —It's Nice That

"Headbangers covers a rich milieu of fans, all united by a love for heavy metal music and the cathartic escape of headbanging." —British Journal of Photography

"The beautifully intimate portraits capture moments of uninhibited emotion — both serious and joyous — that would otherwise have been lost in the raucous crowd." —The Week

"Ehrbahn's images are more Humans of Nü Metal than Humans of New York (it's not exactly a diverse crowd) but individuality is definitely at work here, along with expressions of total abandon, catharsis, and occasional joy." —Omnivoracious, The Amazon Book Review

As seen in: The Guardian, Flavorpill, Artsy