Great Granny Webster (Paperback)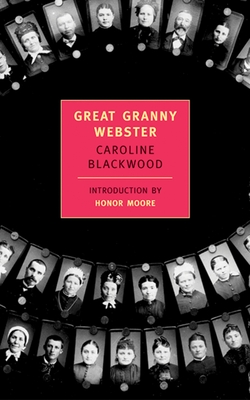 Email or call for price.
Special Order - Subject to Availability
Description
---
Great Granny Webster is Caroline Blackwood's masterpiece. Heiress to the Guinness fortune, Blackwood was celebrated as a great beauty and dazzling raconteur long before she made her name as a strikingly original writer. This macabre, mordantly funny, partly auto-biographical novel reveals the gothic craziness behind the scenes in the great houses of the aristocracy, as witnessed through the unsparing eyes of an orphaned teenage girl. Great Granny Webster herself is a fabulous monster, the chilliest of matriarchs, presiding with steely self-regard over a landscape of ruined lives.
About the Author
---
Caroline Blackwood (1931-1996) was born into a rich Anglo-Irish aristocratic family. She rebelled against her background at an early age and led a hectic and bohemian life, which included marriages to the painter Lucian Freud, the pianist and composer Israel Citkowitz, and the poet Robert Lowell. In the 1970s Blackwood began to write. Among her books are several novels, including Great Granny Webster and Corrigan (both available asNYRB Classics); On the Perimeter, an account of the women's anti-nuclear protest at Greenham Common; and The Last of the Duchess, about the old age of the Duchess of Windsor.

Honor Moore's collections of poems are Red Shoes, Darling,and Memoir. She edited Amy Lowell: Selected Poems for the Library of America and is author of The White Blackbird, a life of her grandmother, the painter Margarett Sargent.
Praise For…
---
"Shocking, brilliant, and wickedly funny, Great Granny Webster is Caroline Blackwood's best book. In the monstrous old dowager of Hove, and the ruling class she represents, Blackwood found a subject grandly commensurate with her own extraordinary style of aghast relish." — Jonathan Raban

"None of us will forget Caroline Blackwood's Great Granny Webster, a matter-of-fact account—and all the grimmer for this matter-of-factness—of the temperamental and circumstantial misfortunes of an Ulster family. Although it's deceptively concise, it evokes the spirits of no less than four ages—Victorian, Edwardian, pre- and postwar—in exact and resonant prose…A unique literary experience." — Philip Larkin

"Blackwood loves monsters. No character in modern literature is more obdurately monstrous than Great Granny Webster. An Edwardian relic, this utterly pleasureless, stingy, censorious, ossified banshee, forever ensconced in her painfully stiff chair before a fireplace laid but never lit, is the stuffed and essentially powerless dragon of a musty castle, the remnant of hidebound and pointless traditional values, someone who has never in her life given anyone a reason to like her." — Gary Indiana, Bookforum

"Great Granny Webster feels more like a memoir than a novel…but it is as gripping as a whodunit. There are passages like passages in a strange house: when they turn a corner, something unexpectedly shocking comes into sight. It is also very funny, and the characters are vividly eccentric—or just plain vivid: Blackwood's writing never merely trundles along." — Gabriele Annan, The Times Literary Supplement