Fancies and Goodnights (Paperback)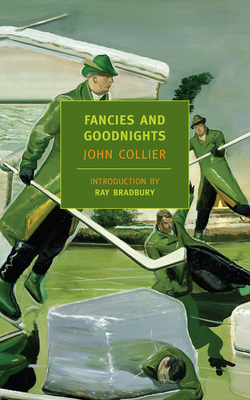 Email or call for price.
Special Order - Subject to Availability
Description
---
John Collier's edgy, sardonic tales are works of rare wit, curious insight, and scary implication. They stand out as one of the pinnacles in the critically neglected but perennially popular tradition of weird writing that includes E.T.A. Hoffmann and Charles Dickens as well as more recent masters like Jorge Luis Borges and Roald Dahl. With a cast of characters that ranges from man-eating flora to disgruntled devils and suburban salarymen (not that it's always easy to tell one from another), Collier's dazzling stories explore the implacable logic of lunacy, revealing a surreal landscape whose unstable surface is depth-charged with surprise.
About the Author
---
John Collier (1901-1980) was born in London. He began his writing career as a poet, first publishing in 1920. He turned to fiction in the early 1930s, producing the popular and controversial novel, His Monkey Wife, about a man who is married to a chimpanzee. In 1935 Collier left England for Hollywood, where he became an active and prolific writer for film and later television; he was particularly influential in developing the brilliantly creepy and subversive style of such television classics as "Alfred Hitchcock Presents" and "The Twilight Zone." An adaptation from Milton, Paradise Lost: Screenplay for Cinema of the Mind was published in 1973, but never produced as a film. Collier's other works range from the poetry collection Gemini (1931) to the novels Tom's A-Cold(1933) and Defy the Foul Fiend (1934), and the short story collections Presenting Moonshine (1941), Fancies and Goodnights (1951), Pictures in the Fire (1958), The John Collier Reader (1972), and The Best of John Collier (1975).

Ray Bradbury started writing fiction at the age of twelve and published his first story when he was twenty. He has since written more than thirty books—novels, stories, essays, plays, and poems—including The Martian Chronicles (1950), the futuristic novel Fahrenheit 451 (1952), and a collection of short stories The Illustrated Man (1951). He lives with his wife in Los Angeles.
Praise For…
---
Intense like poems, compressed like epigrams, short stories have always inclined to the lyrical and biting. No story writer ever bit more sharply or wrote more gracefully than John Collier. When I first encountered his work, twenty-five years ago, I was shocked by his plots and delighted by his cruelty; now I take my delight in the dark silky stuff of his prose style, and the shock lies in his faultless execution and in his mastery of craft. If you don't know his work, you owe yourself the pleasure—the indispensable pleasure—of Collier.
— Michael Chabon

Here is a world of moonshine and madness, of suburbia invaded by fiends and angels, of magic spells, grotesque melodrama and lunatic farce, surprising, ludicrous, terrifying.
— The New York Times

In this collection, Collier uses clever, evocative prose to tell dozens of brief tales that vault off at peculiar, fantastical angles with often startlingly—and amusingly—cruel conclusions….At his best it is a mystery how he fell from attention. Erased from history for half a century like a character in one of his stories, Collier deserves rediscovery.
— Rob Haynes, Time Out (London)

Preponderantly from the New Yorker, these haunted lullabies and sanguine whimsies which range from the civilized horror of Saki to extravagant parody, display an affectionate familiarity with evil, sharpen drama with irony.
— Kirkus Reviews