Breasts and Eggs (Paperback)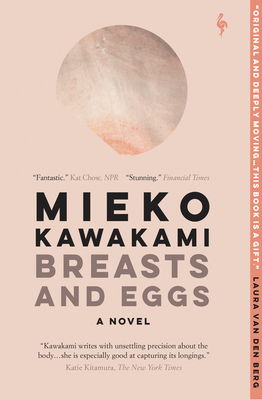 $16.95
Coming Soon - Available for Pre-Order Now
Description
---
A BEST BOOK OF 2020
TIME Magazine・The Atlantic・Book Riot・Electric Literature・The New York Times (Notable Book of the Year)
The story of three women by a writer hailed by Haruki Murakami as Japan's most important contemporary novelist, WINNER OF THE AKUTAGAWA PRIZE.
On a sweltering summer day, Makiko travels from Osaka to Tokyo, where her sister Natsu lives. She is in the company of her daughter, Midoriko, who has lately grown silent, finding herself unable to voice the vague yet overwhelming pressures associated with adolescence. The story of these three women reunited in a working-class neighborhood of Tokyo is told through the gaze of Natsu--thirty years old, an aspiring writer, haunted by hardships endured in her youth. Over the course of their few days together in the capital, Midoriko's silence will prove a catalyst for each woman to confront her fears and family secrets.
On yet another blistering summer's day eight years later, Natsu, during a journey back to her native city, struggles with her own indeterminate identity as she confronts anxieties about growing old alone and childless.
One of Japan's most important and best-selling writers, Mieko Kawakami mixes stylistic inventiveness, wry humor, and riveting emotional depth to tell a story of contemporary womanhood in Japan. Breasts and Eggs recounts the intimate journeys of three women on the path to finding peace and futures they can call their own.
"Original and deeply moving...This book is a gift."--Laura van den Berg
About the Author
---
Born in Osaka prefecture in Japan, Mieko Kawakami made her literary debut as a poet in 2006. Her first novella My Ego, My Teeth, and the World, published in 2007, was awarded the Tsubouchi Shoyo Prize for Young Emerging Writers. The following year, Kawakami published Breasts and Eggs as a novella, and won Japan's most prestigious literary award, the Akutagawa Prize. In 2016, she was selected as Granta Best of Young Japanese Novelist. The newly expanded Breasts and Eggs is her first novel to be published in English. Kawakami is also the author of the novels Heaven, The Night Belongs to Lovers, both of which will be published by Europa Editions. She lives in Tokyo.