Ant Colony (Hardcover)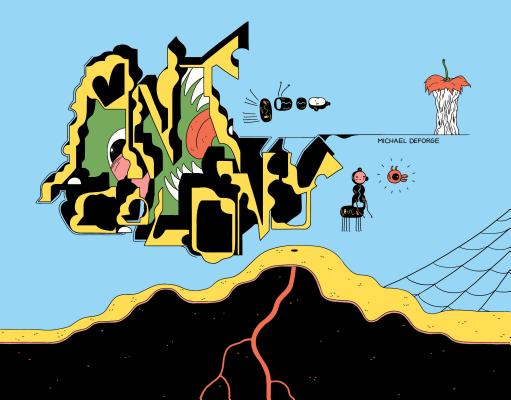 Description
---
BEST OF THE YEAR NODS FROM THE GLOBE & MAILL, AMAZON.COM, QUILL & QUIRE!

"The Toronto cartoonist's first full-length graphic novel follows a clutch of misfit ants, trying to maintain some semblance of civilization in the shadow of war. Psychedelically gorgeous, uncomfortably funny."-Sean Rogers, Globe & Mail Best Books of 2014

The debut graphic novel from a dazzling newcomer with a singular, idiosyncratic style

In the few short years since he began his pamphlet-size comic book series Lose, Michael DeForge has announced himself as an important new voice in alternative comics. His brash, confident, undulating artwork sent a shock wave through the comics world for its unique, fully formed aesthetic.
From its opening pages, Ant Colony immerses the reader in a world that is darkly existential, with false prophets, unjust wars, and corrupt police officers, as it follows the denizens of a black ant colony under attack from the nearby red ants. On the surface, it's the story of this war, the destruction of a civilization, and the ants' all too familiar desire to rebuild. Underneath, though, Ant Colony plumbs the deepest human concerns-loneliness, faith, love, apathy, and more. All of this is done with humor and sensitivity, exposing a world where spiders can wreak unimaginable amounts of havoc with a single gnash of their jaws.
DeForge's striking visual sensibility-stark lines, dramatic color choices, and brilliant use of page and panel space-stands out in this volume.
About the Author
---
Michael DeForge was born in 1987 and grew up in Ottawa, Ontario. After a few years of experimenting with short strips and zines, he created Lose #1, his first full-length comic, which won Best Emerging Talent at the Doug Wright Awards. He has since published a handful of comic books, which have received industry praise and two Eisner Award nominations. His illustrations have been published in The New York Times and Bloomberg View; his comics have appeared in Believer, Maisonneuve, and the Adventure Time comic book series.
Praise For…
---
"DeForge always seems utterly in control--from the dreamscape-on-drugs palette of electric blues, acid tangerines and lemon yellows, to the deft world-building worthy of Jack Kirby, to the winged terrors that nod to manga horror master Kazuo Umezu... DeForge is apparently of our species, but as a keen observer of multifaceted behavior, perhaps no cartoonist has a better compound eye." —The Washington Post

"[Ant Colony] is . . . absurd and existential . . . [DeForge] grants no victors and no spoils." —Harper's Magazine

"Ant Colony goes beyond any of his previous work, laying out the psychosexual hang-ups and strange power dynamics of characters who are as deep and complicated as an anthill's network of caves." —National Post

"Ant Colony is a sort of life-during-wartime love story in which the characters happen to be stylized ants, centipedes and spiders inhabiting a world rendered with outsized surreal flair." —Montreal Gazette

"With its striking design, strong characters and parallel references to kiddie-fare animal antics and soul-crushing adult decisions, Ant Colony is compelling work." —Chicago Tribune

"With an unusual style that is equal parts adorable, grotesque, psychedelic, and earthy, DeForge tells an epic story . . . the hallucinatory imagery works wonderfully with the emotional honestly of the writing to make Ant Colony an outstanding spectacle with personality and depth." —AV Club

"A book this thought-provoking and gorgeous deserves acclaim." —Paste

"Every so often a book comes along that knocks you flat on your ass and makes you wonder where the hell you've been and why you haven't seen anything like it sooner. Ant Colony is exactly that kind of book . . . an intensely charismatic, thoughtful, evocative little world that DeForge has filled with memorable characters, burning philosophical questions, and moments of true humanity that shine through the stylized thoraxes and angled antennae of his kooky creations. The year may be young, but I am confident when I say that this may just be the best graphic novel of 2014." —Nerdist