City of Segregation: 100 Years of Struggle for Housing in Los Angeles (Paperback)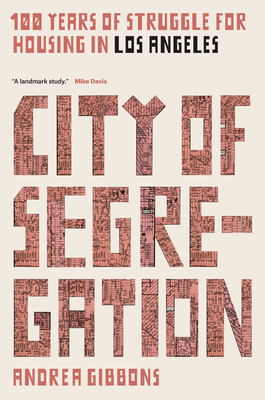 $24.95
Not in stock. Available To Order.
Description
---
A majestic one-hundred-year study of segregation in Los Angeles
City of Segregation documents one hundred years of struggle against the enforced separation of racial groups through property markets, constructions of community, and the growth of neoliberalism. This movement history covers the decades of work to end legal support for segregation in 1948; the 1960s Civil Rights movement and CORE's efforts to integrate LA's white suburbs; and the 2006 victory preserving 10,000 downtown residential hotel units from gentrification enfolded within ongoing resistance to the criminalization and displacement of the homeless. Andrea Gibbons reveals the shape and nature of the racist ideology that must be fought, in Los Angeles and across the United States, if we hope to found just cities.
About the Author
---
Andrea Gibbons, a former tenant organizer in LA, is a researcher for the Sustainable Housing and Urban Studies Unit (SHUSU) at the University of Salford, Manchester. She is a writer, editor, and educator and serves on the editorial board of City.
Praise For…
---
"In the nation's capital of homelessness, housing has always been at the center of the fight for social justice. In this landmark study, Gibbons arms today's activists with a rich understanding of past movements for fair and affordable housing."
—Mike Davis, author of City of Quartz

"A much-needed corrective to dominant narratives of segregation and an alternative geography of Los Angeles racism."
—Laura Pulido, coauthor of Black, Brown, Yellow, and Left

"A profoundly important account of the battle for equal housing in LA. Gibbons not only tracks the courageous grassroots struggles that helped topple LA's 'hate walls,' she also captures the changing dynamic of racial segregation—where once people of color fought to enter segregated neighborhoods they must now fight against the neoliberal forces of gentrification to remain. Astute, passionate, radical, and utterly invaluable."
—Junot Díaz, author of The Brief Wondrous Life of Oscar Wao

"A remarkable study of a century of separations and struggles against them in one of the most important US cites. Richly documented and filled with memorable characters, City of Segregation shows how patterns of division are made from above and below and how the production of racialized spaces entangles with a variety of other urban miseries."
—David Roediger, author of Class, Race, and Marxism

"In City of Segregation Andrea Gibbons illustrates how powerful real estate and business interests in Los Angeles have long promoted racial segregation. With a fresh historical-geographical analysis, Gibbons describes campaigns waged by the Black freedom struggle to resist these efforts. This is a commendable study about racism, housing, and social power with strategic insights for social movements."
—Jordan T. Camp, author of Incarcerating the Crisis: Freedom Struggles and the Rise of the Neoliberal State

"Location is everything, as any LA realtor will tell you. Real estate, however, is no neutral entity. In City of Segregation, Andrea Gibbons traces the violent relations that produce property values. By linking racism and real estate, Gibbons gives readers a new way to understand the production of space in Los Angeles and a new appreciation for ongoing housing struggles in the city."
—Christina Heatherton, co-editor of Policing the Planet