Patter (Red Hen Press)

From one of our favorite local presses comes one of our favorite local poets! Join us for an unforgettable evening.

For a couple struggling with infertility, conception is a war against their bodies. Blood and death attend. But when the war is won, and life stares, hungry, in the parents' faces, where does that violence, anxiety, and shame go? The poems in Patter re-imagine miscarriages as minstrel shows, magic tricks, and comic strips; set Darth Vader against Oedipus's dad in competition for "Father of the Year;" and interrogate the poet's family's stint on reality TV. In this, his third collection, award-winning poet Douglas Kearney doggedly worries the line between love and hate, showing how it bleeds itself into "fatherhood."  

Praise for Patter:

"Where, oh where would we be without the dynamic intelligence and feats of lyric daring that Douglas Kearney's work has delivered to American poetry? The poems in Patter run back and forth through the realms of private interiority, popular culture, and the vast public arena of history, all the while re-inventing what the poetic line is capable of bearing and baring. Completely and un-ironically alive with genuine feeling, these are poems that are not afraid to say and show how we matter to one another."—Tracy K. Smith

"In Patter, Douglas Kearney dissects several of the quiet and not so quiet terrors that stoke the worried furnace of our lives. These poems take a feverish look at fatherhood in particular and manhood in general. Because he does not accept the givens of what poetry can and cannot do, he breaks new ground, makes new lanes by which we might reach inwardly into our own private lunacies and outwardly into the grotesque confusions of the common world. Once under the spell of the sonic-semantic wizardry that pervades Kearney's work, you not only know more, but what you've known before, you know differently."—Tim Seibles

Douglas Kearney is the author of the poetry collections The Black Automaton and Fear, Some. Raised in Altadena, CA, he lives with his family in California's Santa Clarita Valley. He teaches at CalArts.

Photo by Eric Plattner
Event date:
Thursday, March 13, 2014 - 7:30pm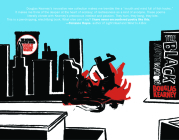 $17.00

ISBN: 9781934200285
Availability: Not in Stock. Available to Order.
Published: Fence Books - December 1st, 2009
---

$17.95
Possibly out of print. Email or call to check availability and price.
ISBN: 9781597090711
Published: Red Hen Press - August 1st, 2006
---