The Clock Without a Face (McSweeney's)
An event for this new eye-catching, pentagonal mystery/puzzle/board book, featuring Eli Horowitz and Mac Barnett, two of the book's authors.
Twelve emerald-studded numbers, each handmade and one of a kind, have been buried in 12 holes across the land. These treasures will belong to whoever digs them up first. The question: Where to dig? The only path to the answer: solve the riddle of the book.
Eli Horowitz has edited and designed books and journals for McSweeney's for the past eight years. Before McSweeney's, Eli was employed as a carpenter and wrote science trivia questions tenuously linked to popular films. He was born in Virginia and now lives in San Francisco.
Mac Barnett: Born to non-farmers in a California farming community, Mac now lives near San Francisco. He's on the board of directors of 826LA, a nonprofit writing center for students in Los Angeles, and he founded the Echo Park Time Travel Mart, a convenience store for time travelers.
Event date:
Wednesday, July 14, 2010 -

7:30pm

to

9:30pm
Event address:
Skylight Books
1818 N. Vermont Avenue
us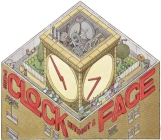 $19.95

ISBN: 9781934781715
Availability: Not in stock. Available To Order.
Published: McSweeney's - April 27th, 2010
The call comes in from the shadowy Ternky Tower: 13 robberies, one on each
floor, all the way up to the penthouse, where obnoxious importer Bevel Ternky
has been relieved of the numbers garlanding the legendary Emerald Khroniker, his
priceless, ancient clock. Readers must conduct their own investigations,
scouring detailed illustrations for hidden clues and knotty puzzles. All your
answers can be found within this book: whodunit and how... and where the real
numbers are buried now. Twelve--and only
twelve--emerald-bedecked integers sleep somewhere in this nation's soil. If you
can find them, they're yours to keep--and only this book can tell you where they
are. So read the story carefully, and examine the illustrations closely. The
race is on!
---