*Please note: this event will take place on Crowdcast. Register here to attend live or watch the replay.
LA GRAFFITI BLACK BOOK (Getty)
This collection of unique works by 150 Los Angeles graffiti and tattoo artists represents an unprecedented collaboration across the city's diverse artistic landscape.
Many graffiti artists carry sketchbooks, called black books, and they ask crew members and others whose work they admire to inscribe their books with lettering or drawings. A few years ago, the Getty Research Institute invited artists, including Angst, Axis, Big Sleeps, Chaz, Cre8, Defer, EyeOne, Fishe, Heaven, Hyde, Look, ManOne, and Prime, to consider the idea of a citywide graffiti black book. During visits to the Getty Center, the artists viewed rare books related to calligraphy and letterforms, including works by Albrecht Dürer and Leonardo da Vinci. The artists instantly recognized the connections to their own practices and were particularly drawn to a liber amicorum (book of friends), a form of autograph book popular in the seventeenth century. Passed from hand to hand, it was filled with signatures, poetry, and coats of arms, like a black book from another era.
Inspired by this meeting of minds across centuries, these artists became both creators and curators, crafting their own pages and inviting others to contribute. Eventually 151 Los Angeles artists decorated 143 individual pages. These were bound together into an exquisite artists' book that became known as the Getty Graffiti Black Book. This publication reproduces each page from the original artists' book and recounts the story of an unprecedented collaboration across the diverse artistic landscape of Los Angeles.
Praise for LA Graffiti Black Book:
"What makes this project so provocative is how it draws connections between 17th-century vernacular art practices, the social/collaborative nature of contemporary street art, and the importance of documentation and archives." -An Xiao Mina, Hyperallergic
David Brafman is associate curator of rare books at the Getty Research Institute. He is coauthor of Insects and Flowers: The Art of Maria Sibylla Merian (Getty, 2008) and a contributor to Cave Temples of Dunhuang: Buddhist Art on China's Silk Road (Getty, 2016)
Stefano Bloch is a long-time LA-based graffiti writer, currently professor of cultural geography at the University of Arizona, and the author of Going All City: Struggle and Survival in LA's Graffiti Subculture published in 2019 by University of Chicago Press.
David "Big Sleeps" Cavazos, the master inker, Big Sleeps, is an international legend among tattooists, and a leading figure in the newly revived 'lettrist' art movement. He is also the author of a number of successful 'how-to' books on hand-style lettering. His signature style fashioning letters into rhythmic angular patterns has its early roots in Pico Union territorial tagging. The l.A. Graffiti Black Book quotes Sleeps as observing, "Perfection in the execution of hand-style lettering is enhanced by incarceration[,]" a reference to spending a majority of his youth in Juvenile Hall, Youth Authority and State Prison. His public artwork includes a permanent mural at the Natural History Museum of Los Angeles. Single and group exhibtions include Japan's HHH gallery and LA Louver, and examples of commercial collaborations are Hurley, Nike, Adidas, and Diamond Supply
Event Date: May 14, 2021 - 6:30 PM PST
Event date:
Friday, May 14, 2021 - 6:30pm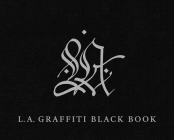 $35.00

ISBN: 9781606066980
Availability: On Our Shelves Now
Published: Getty Research Institute - April 27th, 2021
---