PLEASE NOTE: This event will take place on Crowdcast. Register here to join the livestream or watch the replay.
*
Unimpressed (Fantagraphics)
As seen on her popular Instagram account (@mrmtacchia), Southern Californian cartoonist and animator Miranda Tacchia's first book collects more than two hundred hilarious one-liners (and even funnier drawings) tackling modern friendship, romance, urban living, and self-image.
Have you ever schemed with a friend? Stared at your phone screen well after you should have gone to sleep? Braced for heartbreak? Been told to smile more? Then Unimpressed will undoubtedly speak to you. In a book that bridges comics and memes, Tacchia uses her biting sense of humor and background in animation to create brilliant character portraits of women with only markers, Post-it notes, and tape. A master of expression, figure, and subtle (and other times not-so-subtle) comedy, Tacchia's protagonists are usually "unimpressed women" — who all share the fact that "they don't give a shit about you," as Tacchia puts it.
What makes Unimpressed so impressive and entertaining is how Tacchia taps into instantly relatable feelings and situations while simultaneously creating art that exudes confidence and vulnerability. (Sample caption: "When you went from giving him an earful to a mouthful.") Her often scabrous depiction of life as a young single woman today echoes that of Phoebe Waller-Bridge's (Fleabag) or Abbi Jacobsen and Ilana Glazer's (Broad City). Funny, smart, observant, sexy, gross, and relatable — Unimpressed is a wonderful debut and a great gift idea.
Miranda Tacchia is a designer, illustrator, and cartoonist working in Los Angeles in the animation industry. She has worked as a character designer and layout artist for several animation studios, including Disney, Nickelodeon, Cartoon Network, and Warner Brothers. Her work has been featured in galleries in Los Angeles, San Francisco, Portland, and New York, as well as publications such as Juxtapoz and Printed Pages.
Aminder Dhaliwal is a native of Brampton, Ontario and received a Bachelors of Animation from Sheridan College. She now lives in Los Angeles, where she has directed, storyboarded and written for Disney TV Animation, Cartoon Network and Nickelodeon. She was named one of the Top Ten Animators to Watch in 2020 by Variety. Her first graphic novel Woman World was nominated for an Ignatz Award for Outstanding Online Comic. Her second graphic novel Cyclopedia Exotica is in stores now.
Event date:
Monday, October 18, 2021 - 7:00pm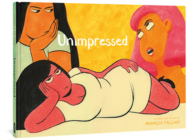 $29.99

ISBN: 9781683964698
Availability: Coming Soon - Available for Pre-Order Now
Published: Fantagraphics - October 26th, 2021
---

$24.95

ISBN: 9781770464377
Availability: On Our Shelves Now
Published: Drawn and Quarterly - May 11th, 2021
---

$24.95

ISBN: 9781770463356
Availability: On Our Shelves Now
Published: Drawn and Quarterly - September 11th, 2018
---