*Please note: This event will take place live on Crowdcast. RSVP here to join the livestream or watch the replay.
Winner of the Nightboat Books Poetry Prize, Imagine Us, The Swarm offers seven powerful texts that form a constellation of voices, forms, and approaches to loneliness, silence, and death.
Following the death of the poet's father, Imagine Us, The Swarm contemplates vengeance, eschews forgiveness, and cultivates a desire for healing beyond the reaches of this present life. In this collection of essays in verse, Leung reconciles a familial history of violence and generational trauma across intersections of Asian American, queer, and gendered experiences. Moving between the past and the present, Leung imbues memories with something new to alter time and design a different future.
Muriel Leung is the author of Imagine Us, The Swarm, winner of the 2020 Nightboat Books Poetry Prize, and Bone Confetti, winner of the 2015 Noemi Press Book Award. A Pushcart Prize nominated writer, her writing can be found in The Baffler, Cream City Review, Gulf Coast, The Collagist, Fairy Tale Review, and others. She is a recipient of fellowships to Kundiman, VONA/Voices Workshop and the Community of Writers. She is the Editor-in-Chief of Gold Line Press and the Poetry Co-Editor of Apogee Journal. She also co-hosts The Blood-Jet Writing Hour Podcast with Rachelle Cruz and MT Vallarta. She is a member of Miresa Collective, a feminist speakers bureau. Currently, she is an Andrew W. Mellon Humanities in a Digital World fellow at the University of Southern California where she is completing her PhD in Creative Writing and Literature. She is from Queens, NY.
Jean Chen Ho is a writer in Los Angeles. She was born in Taiwan and grew up in Southern California. Jean is the author of Fiona and Jane, a short story collection. She's a doctoral candidate in Creative Writing and Literature at the University of Southern California, where she is a Dornsife Fellow in fiction. Her writing is published/forthcoming in Georgia Review, Guernica, The Rumpus, The Offing, Apogee, McSweeney's Internet Tendency, VIDA, NPR, Buzzfeed, Bitch Magazine, and others.
Praise for Imagine Us, The Swarm:
"Muriel Leung's powerful new collection renders visible the liminal space of the Asian American, an occupied territory in which every silence, every potentiality, hums with the white noise of other people's imaginings. Leung's innovative poetics implicate the reader in the challenge of forming a post-immigrant self, caught between the competing imperatives of authenticity and assimilation: 'And I am not even legible to myself. Cannot even English my way out.' To hear a new lyric voice emerge from the swarm is thrilling and inutterably moving."
-Monica Youn
"'To write a book is to write into the future,' Muriel Leung writes of her own fear. But Leung is a writer-explorer unafraid to roam, pillage, mourn, or debate; and Imagine Us, The Swarm is the journey of its own migration, from the ashes of the past to a possible future; both honoring and questioning histories felt, researched, unearthed, corrected. With thoughtful intention and insistent curiosity, and the stylistic fearlessness of Layli Long Soldier and Chelsea Minnis, Imagine Us, The Swarm is, above all, an invitation―to imagine, which is to remember, which is to see; which is, 'to be at once [colony] and [alone].' Traversing the pages of this work―its lines and underlines and overlines, its white space and connective tissues and mutability; its wisdom and consideration of everything from zygotes to mothers, to bees and the cost of effort and generational legacies of immigrant families―I am reminded of Adrienne Rich's great epic, Diving into the Wreck; of the uncomfortable and essential pilgrimage into oneself, the voyage to save oneself by knowing oneself, and to imagine living through, as Leung writes, 'an efforted alive.'"
-Morgan Parker
"Muriel Leung's Imagine Us, The Swarm offers seven powerful texts that form constellation of voices, forms, and approaches to confront loneliness, silence, and death. In a varied range of physical and poetic shapes and typography, Leung creates a lyric informed by theory, autobiography, and essay. One finds in the margins of this book deep dimensional portals of thought that resonate wildly. Wise and inventive, this book leads one deep into psychic regions oft unplumbed. Its rigors are complex and yet a reader feels nothing so much as invited in, and the rewards are plentiful and profound."
-Kazim Ali, Judge's Citation for The Nightboat Books Poetry Prize
Event date:
Wednesday, June 2, 2021 - 6:30pm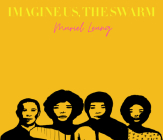 $16.95

ISBN: 9781643620732
Availability: On Our Shelves Now
Published: Nightboat Books - May 25th, 2021
---