LIVE ON CROWDCAST: OKAPI TALE with JACOB KRAMER & K-FAI STEELE
*Please note: This event will take place live on Crowdcast. RSVP here to join the livestream or watch the replay!
*
Okapi Tale (Enchanted Lion)
The sequel to the popular and beloved Noodlephant is finally here!
Now that the Phantastic Noodler is public property, Beaston is the perfect place for pasta parties. Creatures flock from far and wide. But things take a turn when a wealthy Okapi-talist sees an investment opportunity. With privatization come monopoly, exploitation, pollution, and poverty. As for Noodlephant, she's off in Asia, sampling noodles. Will her friends be able to reclaim their town? Will Noodlephant ever return? And how will Beaston resolve the age-old question: To whom does the Noodler belong? Read on for a tale of politics, power, and . . . pasta!
Jacob Kramer grew up in Providence, RI and studied film-making and writing at Harvard. Like Noodlephant, he loves hunting for mushrooms, eating noodles, and organizing with friends in pursuit of justice. He lives in Somerville, MA, where he is an arts council Fellow.
K-Fai Steele's first ambition was not to make books; it was to be a fish.
She grew up in a house built in the 1700s with a printing press her father bought from a magician, and she's been writing and drawing books ever since. She's made drawings for Chibitronics, the Reykjavik Grapevine, MIT Media Lab, School Library Journal, Philly Weekly, the Creativity Labs at Indiana University, and more. K-Fai is the 2018 recipient of the Ezra Jack Keats/Kerlan Collection Memorial Fellowship. Noodlephant, publishing in 2019, is her first book with Enchanted Lion. Other forthcoming titles include A Normal Pig (Balzer+Bray/HarperCollins) and Old MacDonald Had a Baby by Emily Snape with Feiwel & Friends/Macmillan (Fall 2019).
Event date:
Tuesday, October 6, 2020 - 11:00am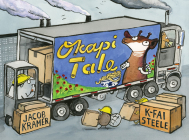 $18.95
ISBN: 9781592703043
Availability: On Our Shelves Now
Published: Enchanted Lion Books - October 6th, 2020
---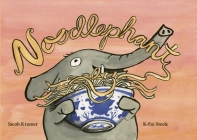 $18.95
ISBN: 9781592702664
Availability: On Our Shelves Now
Published: Enchanted Lion Books - February 12th, 2019
---

$17.99
ISBN: 9780062748577
Availability: On Our Shelves Now
Published: Balzer + Bray - June 4th, 2019
---