MICKEY RAPKIN reads from his new children's book IT'S NOT A BED, IT'S A TIME MACHINE with SARA RUE
It's Not a Bed, It's a Time Machine (Imprint)
In this clever picture book, a young boy anxious for bedtime discovers his bed is a time machine!
Bedtime means lights out, with dark corners and spooky sounds. But it also means...
Adventure! Because it's not a bed, it's a time machine. Our hero rides it to the coolest time of all--the age of the dinosaurs. He makes a tyrannosaurus-sized friend, who helps him become the Boss of Bedtime.
While tonight's sleep will span millions of years, it'll feel like it's over in the blink of an eye.
Mickey Rapkin is a journalist and screenwriter whose first book, Pitch Perfect, inspired the hit film series about a cappella singing. Previously a senior editor at GQ, he is also the author of Theater Geek, and has written for The New York Times, ELLE, Bon Appetit, and National Geographic Traveler. He lives in Los Angeles when he isn't time traveling.
Sara Rue is an actor, writer and producer know for A Series of Unfortunate Events, Rules of Engagement, and Less Than Perfect to name a few ... She lives in Los Angeles with her husband, two daughters, rescue pup and a one eyed cat.
Event date:
Saturday, July 20, 2019 - 3:00pm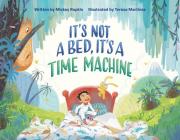 $17.99
ISBN: 9781250167620
Availability: On Our Shelves Now
Published: Imprint - June 4th, 2019
---