PETER YARROW and NOEL PAUL STOOKEY discuss their book PETER, PAUL AND MARY: FIFTY YEARS OF A MUSIC LIFE
Peter, Paul and Mary: Fifty Years of a Music Life (Imagine Publishing)
Peter Yarrow and Noel Stookey of Peter, Paul, and Mary celebrate the release of the first book to detail the intimate story of the trio and their music.
NOTE: As with all Skylight Books events, this reading is free and open to the public (first come, first served). But because we're expecting a large crowd at this event, we'll be giving out numbered tickets to the signing line to keep things organized. To get a ticket to the signing line, you must purchase a copy of Peter, Paul, and Mary here at Skylight Books. Tickets will be available starting November 4, 2014. They will be available in-store, or you can order on our website and leave a note in the "Order Comments" field. We will also hold a ticket for you if you order and pay for a book over the phone. In addition to books, you may bring two items of memorabilia to be signed. Thank you for your cooperation!
Finally . . . here is the first and only book that visually tells us the intimate story of Peter, Paul, and Mary and their music, with stirring images that follow their passionate fifty-year journey to the center of America's heart.
The very best of thousands of photographs, many rare and never before published, taken over five decades by some of the world's top photographers, show them at their earliest performances in the 1960s, when Mary was the most desired, beautiful, and charismatic performer and a new role model for women. Follow the trio as they lead America to discover the passionate soul of folk music. Join the struggle for racial equality, social justice, and freedom in this memorable journey, from the historic 1963 March on Washington with Martin Luther King, Jr., to the trio's appearance before half a million people in 1969 to end the Vietnam War, to their singing at the Hollywood Bowl for Survival Sunday in 1978, helping to launch the antinuke movement, the world's first international environmental movement.
Through these images, you can feel and almost hear the trio's songs calling for a more caring, better world as you see photos of them performing with a courage and conviction that became, for so many, the embodiment and soundtrack of their generation's awakening to conscience, to activism, and to a new dream for all humankind.
Peter, Paul, and Mary's songs of defiant hope and a certain unmasked innocence are still a powerful part of our American consciousness. This book reenacts the history of how the trio marked our lives with their indelible stamp of honesty—the sort we yearn to recapture and recreate in our own time, for ourselves, our children, and the generations to come.
Peter, Paul, and Mary came into being at the dawn of John F. Kennedy's presidency, as America entered one of its most dramatic periods of social and political change. With music being one of the great forces that brought them together, Americans united in unprecedented ways to create a more just and peaceful society. Folk music, with its ability to reach people's hearts, became the sound track of this remarkable quest, and Peter, Paul, and Mary became standard-bearers of America's new hopes and dreams.
Event date:
Wednesday, November 12, 2014 - 7:30pm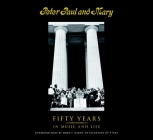 $35.00
ISBN: 9781936140329
Availability: Not in stock. Available To Order.
Published: Imagine/Peter Yarrow - November 4th, 2014
---