*Join Skylight Treehouse and the LA Public Library virtually on Crowdcast for an interactive event celebrating Meeg Pincus's picture book, OCEAN SOUP! She will be joined by a representative from 5 Gyres Trash Academy!
RSVP here to join the livestream or watch the replay.
This is event is presented in partnership with Punk Rock Marthas!
Ocean Soup (Sleeping Bear Press)
A Recipe for You, Me, and a Cleaner Sea!
Ocean Soup: A Recipe for You, Me, and a Cleaner Sea is the story of a recipe for environmental disaster. From the surface, young readers may not realize how much plastic and debris is stewing deep at the bottom of the ocean– but there's a lot. Tons and tons of it, in fact, that has built up after decades of man-made pollution and environmental negligence. This "plastic smog" threatens the ocean's future, infecting marine creatures and ocean life, including the fish we humans eat.
But there's still time to turn it around! At the back of the book, a "Recipe of Hope" is given that instructs readers on the efforts they can make in their everyday lives to slow the boil of "ocean soup." As a southern California native, author Meeg Pincus wrote this book in order to examine her own ecological choices. At the end, Meeg invites readers to join her and commit to do better by our oceans. This book releases just in time for Earth Day in March, and can be included in lessons on ecology and activism!
Meeg Pincus is the author of award-winning nonfiction picture books about "solutionaries" who help people, animals, and the planet. She is also a long-time educator, book editor, and diverse books advocate, and a former newspaper reporter. Meeg lives in Southern California and can be found online at www.MeegPincus.com.
Event date:
Monday, August 9, 2021 - 11:00am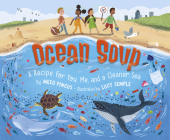 $16.99

ISBN: 9781534111189
Availability: On Our Shelves Now
Published: Sleeping Bear Press - March 15th, 2021
---