WILLIAM STOUT presents and signs LEGENDS OF THE BLUES
Legends of The Blues (Abrams Comicarts)
Legendary comic artist William Stout stops by Skylight to present a lecture on the blues and his new book of blues musician portriats.  Lively and informative, you will not want to miss this event! 
Robert Johnson, Ma Rainey, Billie Holiday, Howlin' Wolf, Bessie Smith, Muddy Waters--say their names out loud and you can just hear the blues. Now, acclaimed artist William Stout visualizes these artists and their music with 100 stunning portraits. This graphically powerful collection includes profiles of classic musicians drawn by a master illustrator. Stout beautifully captures the signature style of each blues legend and then adds authoritative biographical text with personal and humorous writing that brings it on home. Includes recommended playlists and an exclusive bonus music CD.
William Stout is an award-winning artist of international renown in many fields: themed entertainment and motion picture design (specializing in science fiction/fantasy/horror effects films), comic book art, book illustration, poster design, CD covers, public murals, and dynamic yet accurate reconstructions of prehistoric life. His endeavors in the field of motion pictures and comic book art have gained him a loyal following, making him a popular guest at comic book, science fiction and horror movie conventions around the world.
William Stout's murals and paintings are on permanent display at the San Diego Natural History Museum, the San Diego Zoo, the Houston Museum of Natural Science, Walt Disney's Animal Kingdom, the Orton Geological Museum, the Museum of the Rockies and the North Carolina Museum of Natural Science.
Bill's most recent books include
Legends of the Blues, William Stout–Prehistoric Life Murals, The New Dinosaurs A to Z, Dinosaur Discoveries, Hallucinations, Inspirations and Flesk Prime.
Event date:
Tuesday, June 4, 2013 - 7:30pm

$21.95
ISBN: 9781419706868
Availability: Not in stock. Available To Order.
Published: Abrams Comicarts - May 7th, 2013
---

$24.95
ISBN: 9781933865225
Availability: Backordered
Published: Flesk Publications - December 1st, 2009
---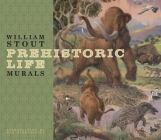 $39.95
ISBN: 9781933865102
Availability: Not in stock. Available To Order.
Published: Flesk Publications - March 1st, 2009
---